It's been almost a month that we've been here in Beijing, the transition hasn't been the easiest one, but we've managed to survive it somehow. And so far, apart from the crazy harsh winters I have no complains or regrets with our decision of moving to Beijing. This city is no doubt beautiful, but for people like us (I mean the shopaholic ladies) beauty lies in the number of markets that a city comprises of…and on those parameters Beijing has scored a perfect 10 on my scale. Every week, there's a new market on my list to explore and of course to shop and trust me each market has its own USP. I have not shopped a single thing from the Malls here as the markets out here as so amazing and CHEAP.
With the help of few expat friends that I've made here, I have managed to see quite a few Markets. And with every visit comes a new purchase, it's like I'm on an extended vacation here LOL.
So we had this Christmas Party to attend and as usual it was chilly cold, so I was thinking about trying something other than the same old boring denims, sweater and a long overcoat. I wanted to try something new, which looked stylish as well as kept me warm and snug.
I had purchased this cute mini skirt from a branded store out here on Christmas sale and desperately wanted to wear it, but since its freezing cold I paired the skirt with warm leggings and boots. To team it up I layered myself with a Blue top and sweater and instead of going for a long overcoat I chose my smart wine colored Leather Jacket (recently purchased from the Beijing Zoo Market).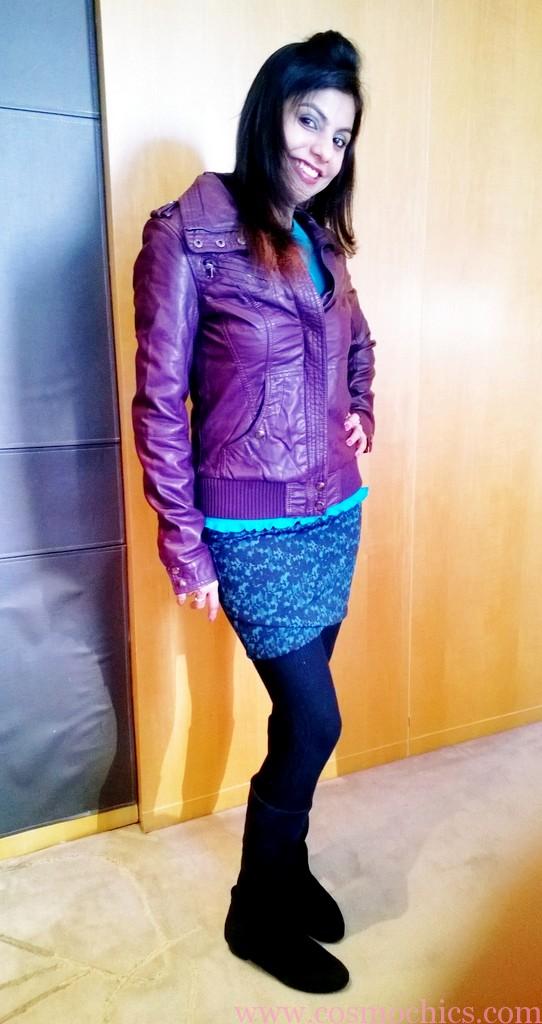 I kept my make-up minimal, with just some kohl on the eyes and lip gloss. And here I was all ready to hit the Christmas Party. This look gave me a festive feeling maybe because I was not wearing the monotonous denims and overcoat. I felt good, stylish and warm…!!! For the warm part of it, I did resort to some good red wine at the Party…LOL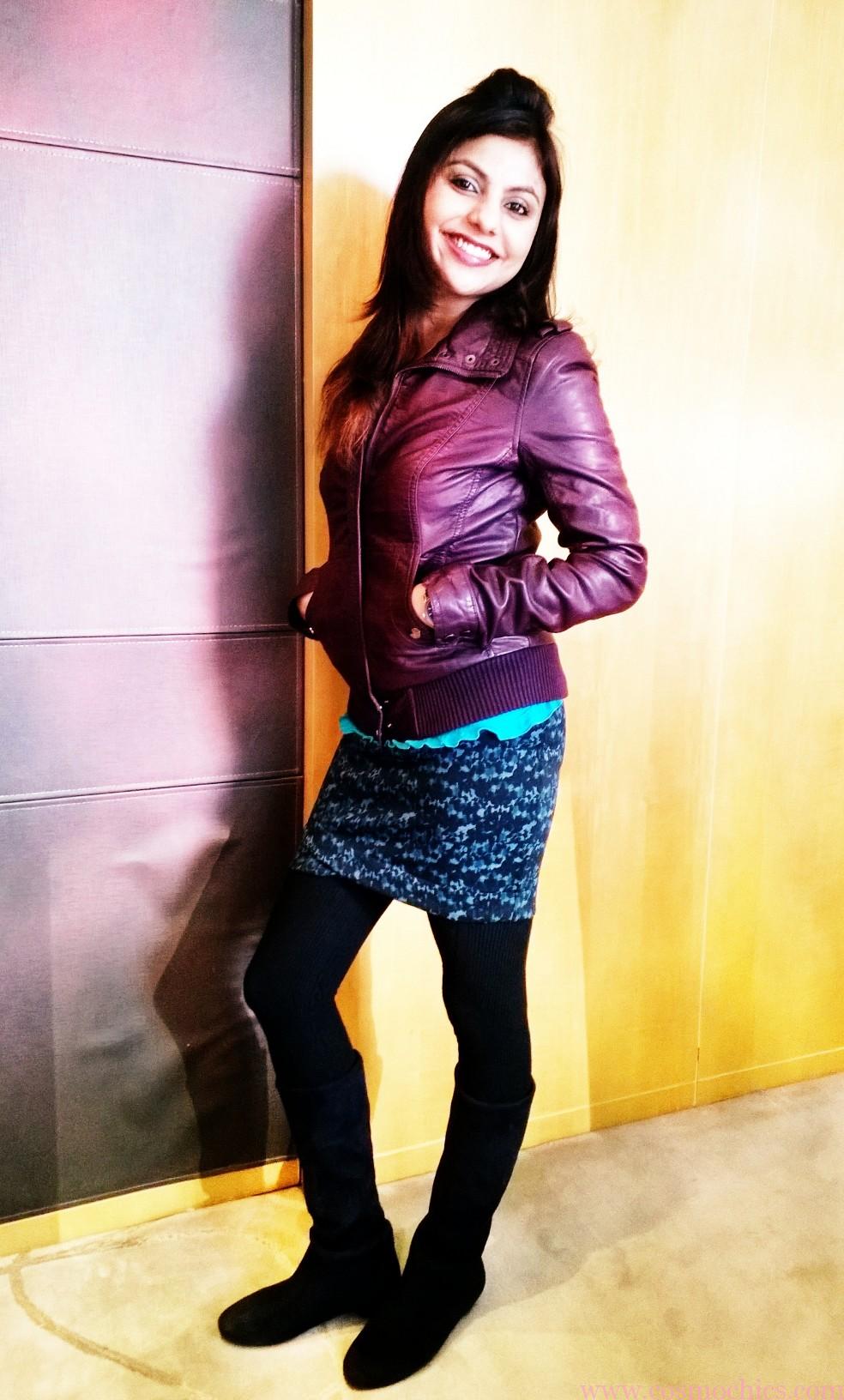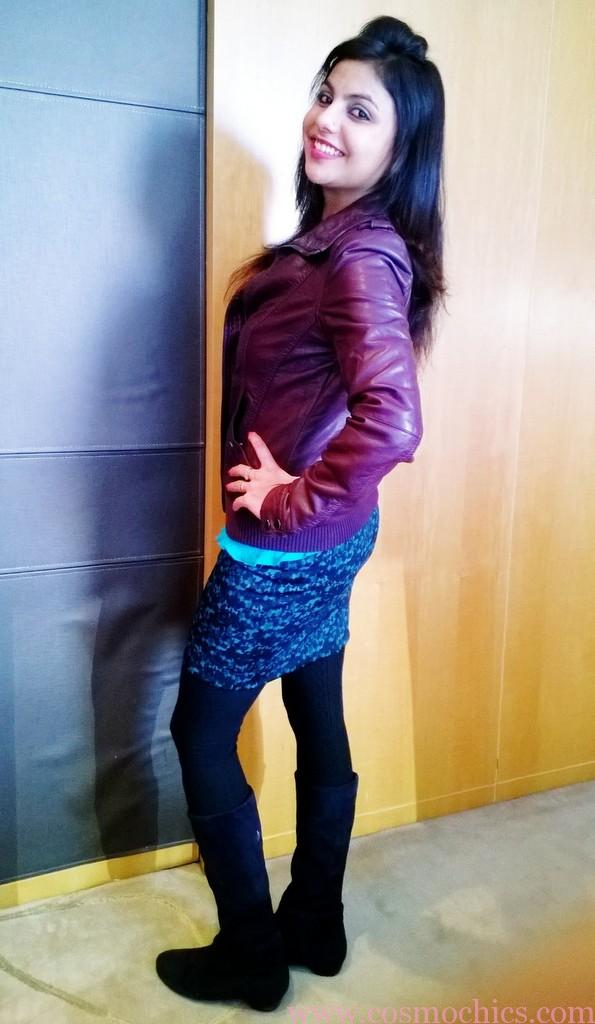 OUTFIT BREAKDOWN
SKIRT:-  Purchased for 50 Yuan's from a Chinese Brand called H&M on their Christmas Sale ( almost Rs  500)
WARM LEGGINGS:-  Purchased for 50 Yuan's on my first visit to YASHOW MARKET, its available for lesser price at other Markets. ( almost Rs  500)
BOOTS:- Purchased for 100 Yuan's on my first visit to YASHOW MARKET  ( almost Rs  1000)
BLUE TOP:- Purchased from Splash in India for Rs 899/-
JACKET:- This Jacket was the highlight of the whole outfit since I had purchased it for only 60 Yuan's from the BEIJING ZOO MARKET) (Almost Rs 600)
So the total cost of the outfit was 350 Yuan's (almost Rs 3500), these are one of those perks of living in Beijing .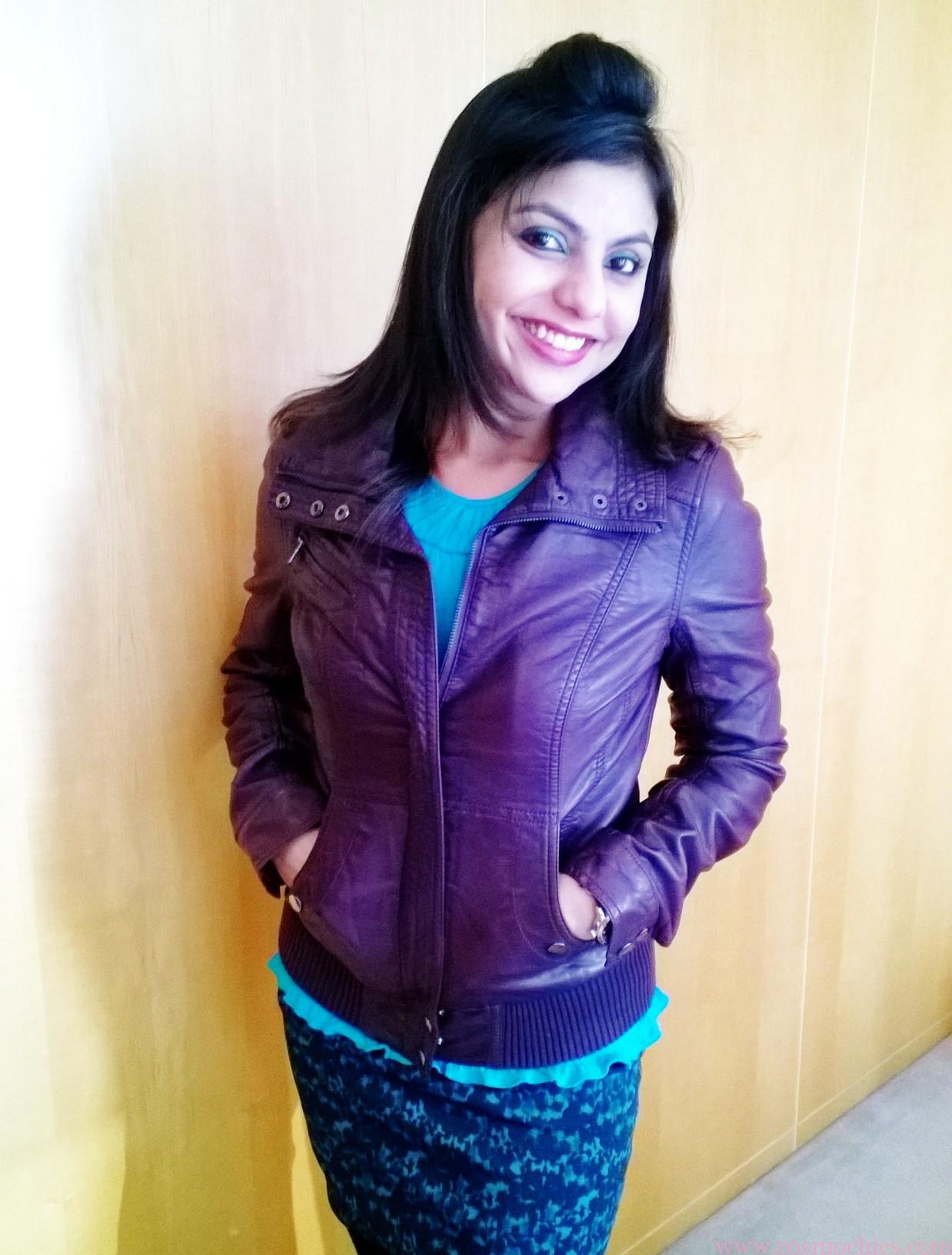 Keep yourself Warm & Stylish this season, Happy Holidays & Merry Christmas…!!!
WE WOULD LIKE TO HEAR FROM OUR READERS…!!!
DO YOU LIKE MINI SKIRTS FOR A CASUAL PARTY WEAR?