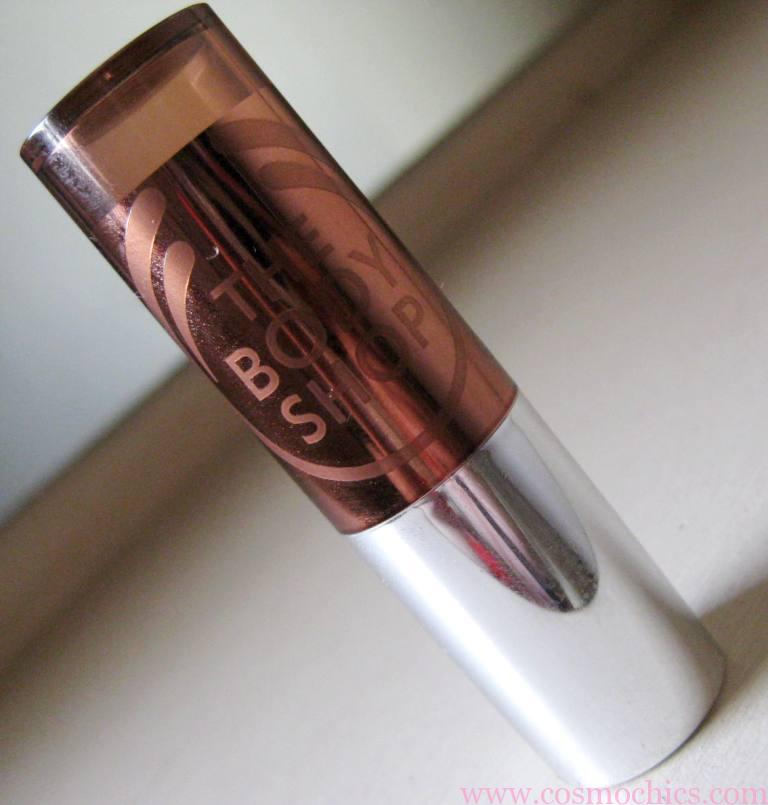 WHAT THE PRODUCT CLAIMS- This luscious lipstick gives a stunning pop of colour and rich moisture, infused with a subtle rose fragrance.
- High-impact colour
- Rich moisture
- Infused with a subtle rose fragrance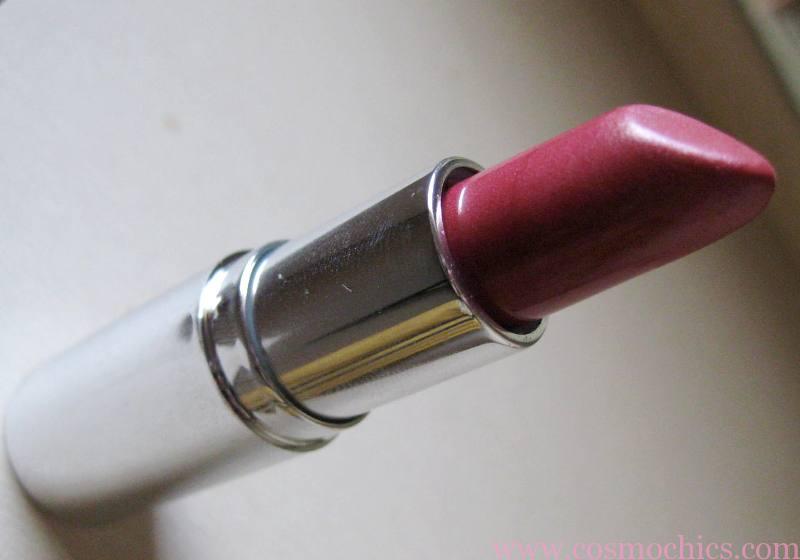 PRICE: RS. 795
QUANTITITY: 3.5 g
SHELF LIFE: 2.5 YRS
SHADES AVAILABLE:
1)    101 RED SIREN
2)    115 ENRAPTURED RED
3)    120 RASPBERRY IN LOVE
4)    125 CRAZY SEXY CRIMSON
5)    210 SWEETHEART PINK
6)    230 RUSH OF PINK
7)    240 DAMSLE IN DISTRESS
8)    301 DRIVE ME NUTS
9)    310 CRUSH ON CARAMEL
10)  325 DARLING BLUSH
11)   330 SPICE THINGS UP (reviewed here)
12)   335 HOT DATE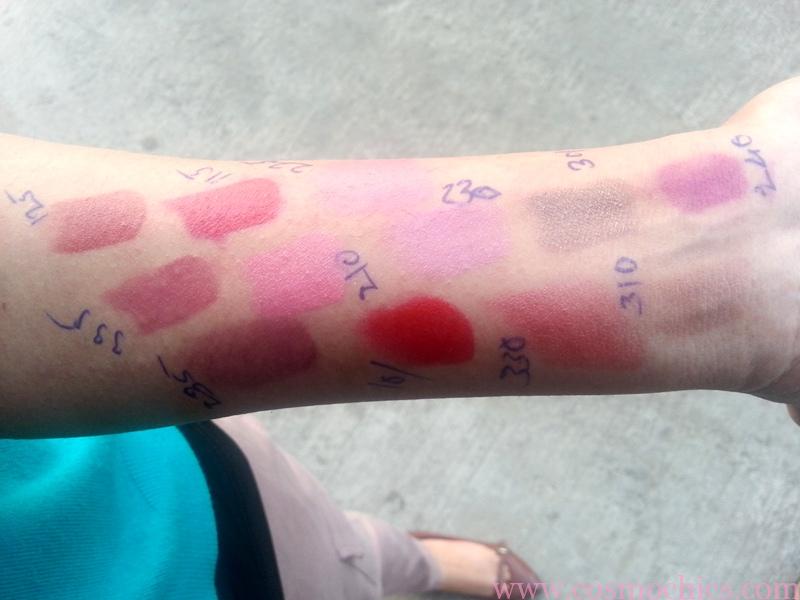 PACKAGING: The body shop colour crush lipsticks are packed in a nice plastic bullet with a see through cap. With the TBS symbol engraved on its bronze colour cap and the silver base, the lipstick looks no less than 'a serious affair'! The cap is tight enough which makes it travel friendly and strong. The lipstick is bullet shaped, pointed perfectly which ensures easy application of it on the lips. At the base the number of the shade and the name is mentioned.
SHADE: The shade I am reviewing is number 330 spice things up. It's a very nice glossy pink shade. It's perfect for everyday wear, office wear and for day time events or occasions.  If applied with light hands it can play a role of nice nude pink as well. The colour is buildable and with a few more number of swipes it gives a brighter shade of pink. The real colour was very difficult to photograph. It looks a little purple in the pics but it's a real pink shade
For my complexion it is quite a flattering lipstick shade.
FRAGRANCE: Yes it smells nice. The fragrance isn't overwhelming so don't worry if you have a sensitive nose. While on the lips it won't smell of anything.  It smells of a flower, and TBS claims that it's infused with a subtle rose scent, so I am believing it's a rose fragrance.
TEXTURE: The lipstick feels soft on lips glides smoothly and nicely. It has a glossy silver shimmer finish and is very moisturizing. The shimmer isn't that noticeable on lips though. In natural light it looks frosty and if you have chapped lips or fine lines this will accentuate it. I somehow liked its silvery pearlescent finish as I haven't used a lipstick with this kind of finish before. So for a change and keeping festive season in mind I bought it and loving it at the moment.
STAYING POWER: Well the only hitch here is that the staying power is way too low. It stays on my lips for two to two and half hours after which it leaves a pink stain, which again stays for another half an hour maybe.
SWATCHES ON MY HAND OF SHADE 330 SPICE THINGS UP (Single swipe)
Multiple swipes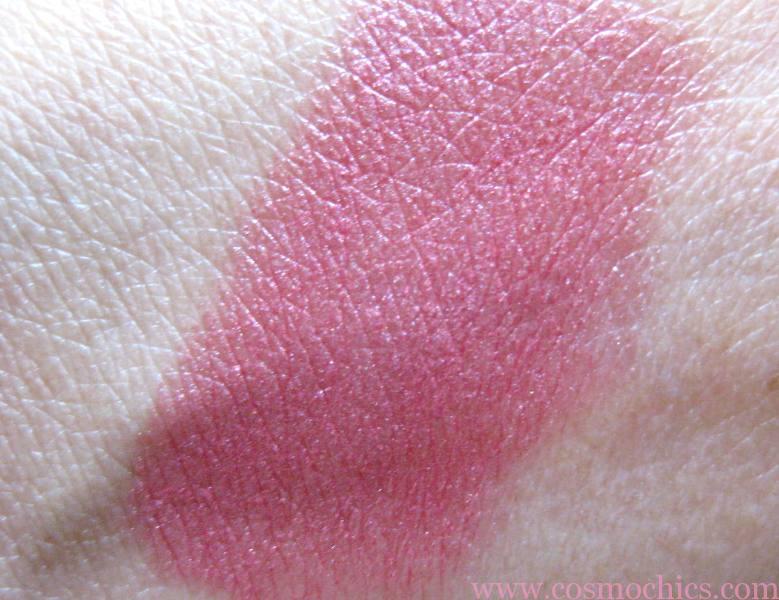 Its buildable !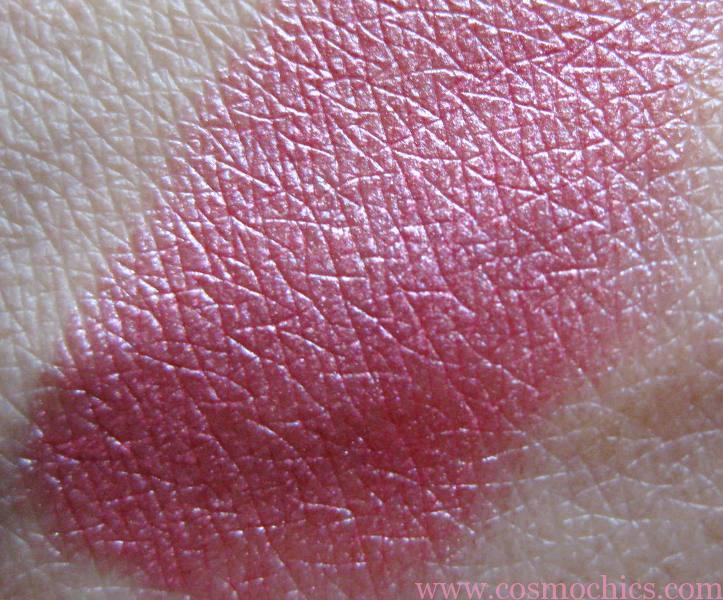 On My Lips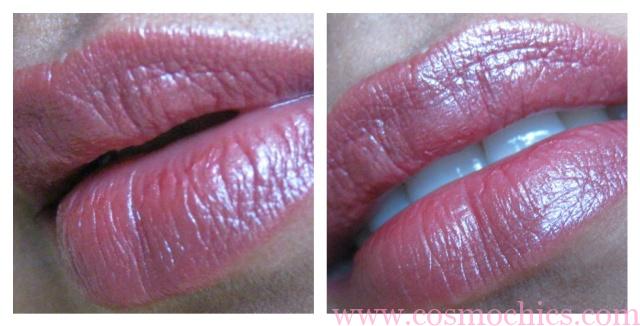 After few hours the stain looks like this
COSMOCHICS RATING: 4.5/5
"INFO ON A SILVER PLATTER"- TBS color crush lipsticks are moisturizing and have glossy silver pearlescent finish. Available in 12 different colours you will be able to find an option for everything, for a party as well as for an everyday wear. The only flaw in the lipstick is that it has very low staying power, and also it won't be a favourite of those who love matte lipsticks.
WE LOVE TO HEAR FROM OUR READERS
HAVE YOU TRIED TBS COLOR CRUSH LIPSTICK YET?